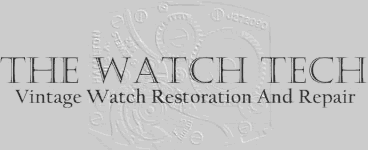 I can service (COA - Clean, Oil, Adjust) most vintage mechanical watches, including everything from a key wind Elgin pocketwatch to a Valjoux chronograph. I can replace parts (balance staffs, mainsprings, stems, crowns, etc.) on many watches, although parts availability is always an issue with vintage timepieces. At your request, I can send out metal dials for refinishing, although I only recommend this when the dial is badly deteriorated. I have a large inventory of glass and plastic crystals for vintage wristwatches. I can also fit crystals for most pocket watches although certain sizes of glass pocket watch crystals are quite scarce.
Nearly all watches sent to me receive at least a COA, which involves the following:

Movement: Removal of dial/hands, complete disassembly, ultrasonic cleaning of all plates and parts, evaluation and replacement of worn parts as needed, reassembly, lubrication with 7 to 9 different oils/greases, regulation of timekeeping and adjustment (in positions as appropriate to the timepiece), beat adjustment and balance poising as needed, assembly of dial/hands, re-casing and evaluation for 24 to 48 hours.

Case/Bracelet: disassembly, ultrasonic cleaning, and basic polishing/refinishing. An additional charge for extensive or detailed case/bracelet refinishing (e.g., most Rolex wristwatches) will be quoted separately. Note that I do not test vintage watches for water resistance. However, I have found that replacement of the case back gasket (included with a COA), lubrication of the crown gasket, and a secure crystal offers adequate moisture resistance for most activities short of submerging the watch.
Movements And Brands Serviced/Repaired: Manual Wind, Automatic, Chronograph & Alarm
American made pocket watches and wristwatches including American Waltham, Aurora, Ball, Columbus, Elgin, Hamilton, Hampden, E. Howard, Illinois, Rockford, South Bend, Seth Thomas, United States Watch Company and other American makes. I can also service most Swiss made pocket watches (such as Gruen, Longines, Omega, and Zenith) although parts are harder to find for older Swiss watches. Sorry, but I no longer repair cylinder escapement pocket watches.
Many Swiss, German and Japanese brands, including A. Schild, Benrus, Bucherer, Bulova, Buren, Certina/KF, Cortebert, Croton, Cyma-Tavannes, Doxa, Enicar, ESA, ETA, Eterna, Favre-Leuba, Felsa, Fleurier, Font, Girard-Perregaux, Gruen, Helbros, International Watch Company (IWC), Jules-Jurgenson, Landeron chronographs, LeCoultre, Lemania, Longines, Marvin, Mido, Movado, MST, Nivada-Grenchen, Omega (Constellation, Seamaster, etc.), Oris, Peseux, PUW, Rado, Record, Revue, Rolex, Seiko, Swiss chronographs, Tissot, Tudor, Unitas, Universal Geneve (chronographs and Polerouter automatics), Valjoux chronographs, Venus chronographs, Wittnauer, Wyler, Zenith, and Zodiac.

How long will it take?

I am employed full time in a different field and only do watch repair part time, but I generally return watches sent for service in 10 to 14 days. I invest 2 to 3 hours in every watch (more for chronographs) and it may take me a few days to acquire necessary parts. If I am experiencing a high volume of work and anticipate a longer turnaround time, I will advise you up front.

I look forward to hearing from you.