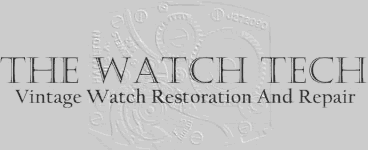 Specializing in the service and repair of vintage pocket watches, wrist watches, and chronographs. I offer a full range of service, repairs and restoration, starting with the essential Clean, Oil, and Adjust (COA) service, which all mechanical watches periodically require.

How Did I get Started? my passion for watch repair began upon receiving two pocket watches as gifts in the mid-1990s: a 1920s Gruen Pentagon (fitting for a Cincinnati native!) and my Grandfather's Illinoi 60-Hour Bunn Special. By 1998, I had learned (with invaluable help from two local watchmakers) how to dismantle, clean, repair and lubricate these (and many other) mechanical watches. I also joined the National Association of Watch and Clock Collectors (www.nawcc.org). I have received formal training in watch repair from the American Watch and Clockmakers Institute (www.awci.com), including instruction on the service/repair of modern automatic, chronograph and quartz movements.

However, I still specialize in vintage watches and can service and repair a wide range of timepieces. Railroad Grade Pocket Watches are still my favorite and I have serviced/repaired many grades, including: Waltham Crescent Street, Premier, Riverside, and Vanguard; Ball; Columbus; Elgin Father Time, B.W. Raymond, Veritas; Hamilton 940, 950, 992, 4992B; Hampden; Howard; Illinois A. Lincoln, Bunn, Bunn Special, Sangamo; Rockford; and South Bend. I am also proficient in the repair of many different Vintage Chronographs , including Angelus, Excelsior Park, Landeron, Longines, Minerva, Movado, Omega, Pierce, Seiko, Universal Geneve, Valjoux, and Venus. Among Wrist Watches, I have probably serviced more Gruens (Curvex, Quadron, Veri-Thin) than anything, but if I had to pick favorite brands/models, I would say just about any Omega (Seamaster, Constellation, Speedmaster, etc.) and most vintage Longines, Tissot and Wyler wristwatches. I also have quite a bit of experience with Micro-rotor Automatics such as the Universal Geneve Polerouter and Hamilton/Buren Thin-o-Matics.